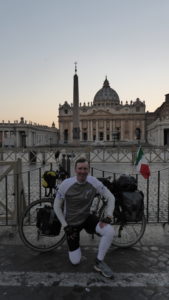 My name is Paulo and I thought it would be fair to write a few lines about me here.
I was born in Brazil (Porto Alegre, RS), but have lived in the UK for nearly 20 years.
I am also a German passport holder due to my ancestry (parents of my parents were all German).
I lived in Germany before moving to the UK.
I have a degree in Electrical Engineering by the Federal University of Goias, Brazil.
I have two children and there is a 10 years gap between them. One is already in the Uni and the other still in primary school.
I am single.
I like to eat, but hate to cook.
I am a certified Project Manager and have worked in this field for many years.
So far my biggest cycling achievement was my pilgrimage to Rome in 2016, however, I consider any ride an achievement in itself.
I have a bad left knee, which prevents me from running (torn meniscus, surgery in 2014).
I am disciplined when I set myself a goal, but I do not persevere in lost causes.
I am a Star Trek fan (well, Sci-Fi in general, but Star Trek is what I often go back to).
I used to be a geek (but not a nerd), but I think this time has passed. Technology still plays a major role in my life though.
I like dark chocolate.
Used to be coffee only, but the UK has taught me there is time for coffee and there is time for tea. Only drink coffee in the morning now (and I need it).
Red wine usually give me headaches, for some reason, so prefer white or beer.
I am serious, but realistic, about the environment and I put my money where my mouth is.
I am concerned for the future of our species, especially for my children. I think we are leaving them more problems than solutions.
I am a short term pessimist and a long term optimist.
I believe in the Christian God, but don't belong to any religion (as in churches). I pray frequently.
I believe in reincarnation, but that human souls can only be born in human bodies. I believe in "life" after death.
I believe ET exists and they are watching us. Have seen flying objects that I can't explain.
I believe I wrote too much about me… openness and transparency is important, but mystery ads spice to life.
For now, this page is called "About me" because I have been the only author in the blog. So far everyone else I invited to write here has declined. Help me turn this page into "About us!".